Try Paddling with Dragons Alive!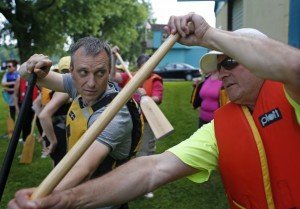 Three Tuesdays in June 2021 are Try-it-Tuesday events for both Veterans and Dragons Alive: June 7,14 and 21st from 5:45 pm to 8 pm at the Dragons Alive home base at Blain's Bay Marina.  No experience is required, and there is no commitment or fee to attend until you have tried it twice, at which point we ask you to join the team if you so choose. (You will want to join right away!!!). We provide all the equipment you will need in the form of pfds and paddles (and the boat of course). Do bring water, sunscreen and shoes that can get wet. Wear any clothes suitable for exercise, but wicking fabrics are preferable to cotton.
When you decide to join a team, Veterans Dragon Boat-Capitol Region will practice on Tuesday evenings (with the option of adding a second practice on Thursday evenings),  and Dragons Alive will practice Monday and Thursday evenings, all 6-8 pm.
Practices begin with a warm-up on land, the coach then designates the seating plan in the boat, taking into consideration skill levels, weight balance, and paddling side preference. We encourage paddlers to try different seats in the boat as much as practically possible. We normally paddle for about 1.5 hours (with rest periods), depending upon the weather and light availability.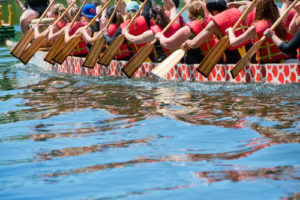 Please make reservations for the Tuesday events by calling one of our coaches (this allows us to contact you beforehand if a practice has to be canceled due to weather). If you are unable to come at all on Tuesdays we will accommodate you on a regular practice day if at all possible.

FOR MORE INFORMATION
Find us on Facebook, Instagram (Dragons_Alive), and DragonsAlive.org
Call our coach: Louisa at 518-429-4908. We are happy to answer questions. Please let us know if you are planning to attend a "Try-Paddling Tuesday" event.

Please send your questions / inquiries by clicking the button above